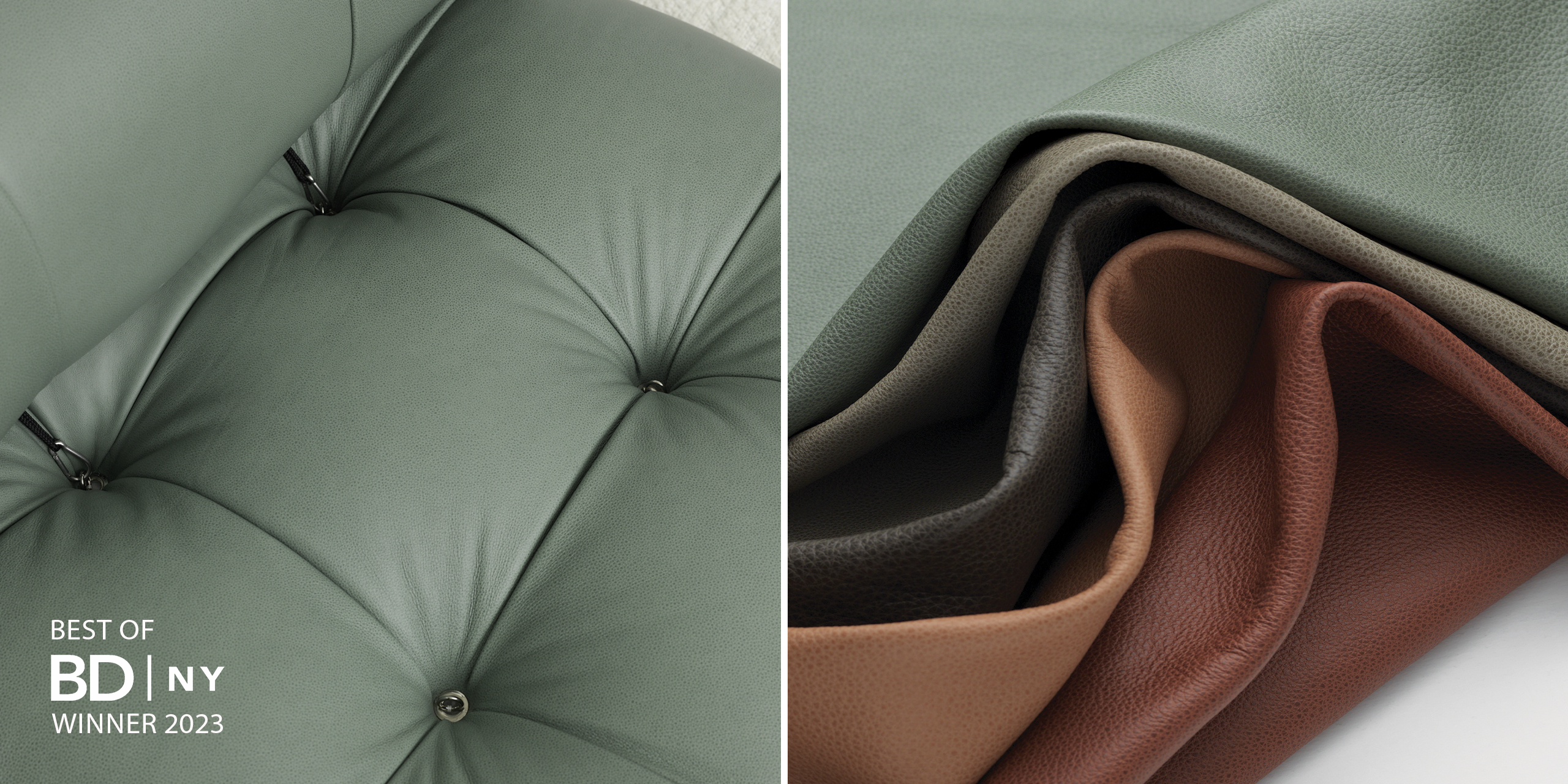 A Cortina Collection with Virginia Langley & Crypton
Winner of Best of BDNY 2023 for Fabrics, Bellina is Cortina's latest collaboration with award-winning textile designer Virginia Langley and protected by Crypton. Inspired by emerging haute couture colors at Fashion Week in Milan and color forecasts for 2024 and beyond, Virginia created a sophisticated color story with deep contrasts of rich, earthy shades and the dusted and misty tones of nature, all seen most vividly in our golden hours. Using Virginia's hand-painted color swatches, together she and Cortina created an elegant collection ready to be mixed and layered for a casual harmony.
Made in Italy by true leather artisans, Bellina's natural variable pebble grain and subtle color variation from tips to valleys, combine to create a lovely textural and biophilic appeal. Bellina is a thick (1.3-1.5mm) full-grain aniline made on quality, large (average 50-55 sq.ft.) hides and the finished product has a low sheen, a beautiful drape, and the dreamy, velvety hand defined only by quality, genuine leather. Cortina crafted Bellina as a response to designers' requests for an extremely soft, textural leather that will age gracefully without patina, yet is offered at a surprisingly accessible price point.
Protected by Crypton for excellent stain resistance and cleanability, Bellina is a sustainable and versatile collection in 15 fashionable colorways that will radiate luxury and casual sophistication in any interior application.
Shown here in Bellina Fernwood on a Mario Bellini-style chair and ottoman.
Bellina Color Story by Virginia Langley
Chocolat — A French decadence flavored in dreamy milky cocoa
Venetian Linen — An Italian vintage shade, brightened with a modern freshness
Brûlée — A delicious blend of creamy light golds and pale neutrals
Fernwood — The intrigue and mystery of forests translated into a mystical earthy green
Castle Stone — An old-world classic revitalized with a fresh style
Café Havana — The essence of iced lattes and warm sunshine on a summer morning
Cascade — A gentle neutral cascading in warmth
Ethereal — A glow of titanium blended with misty ivory tones
Serene — The tranquility of sandstone in a zen garden
Renewed Sienna — A softening of bold sienna with hints of misted brushstrokes
Graphite — A defined moment of the artist's strong pencil stoke
Storm — A whisper of thunder and rain clouds
Untamed Ocean — A wild coastal ocean stirring up sand and rock with its rhythmic motion
Soft Deco — A classic Deco pink modernized with a deeper and richer appeal
Mascara — A fashionable black at its finest, bold and daring for a modern world