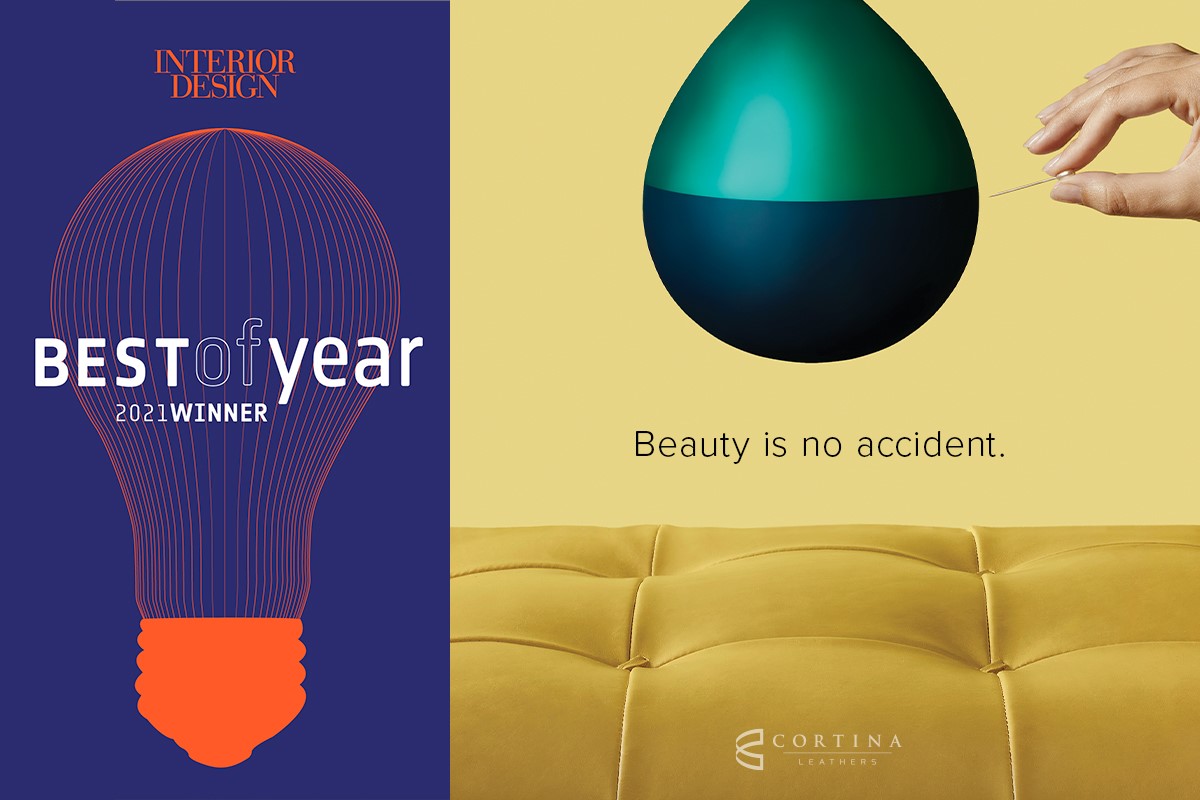 We are proud to announce that Cortina Leathers' ad campaign for the Allora Collection, "Beauty is no accident" is the winner of the 2021 Marketing + Branding Materials Award from Best of Year presented by Interior Design Magazine. The "Beauty is no accident" Campaign was conceptualized by Maiarelli Studio.
With the launch of their newest collection, Allora, Cortina Leathers is upping the ante in quality and design of leather goods across all industries. Allora, designed in collaboration with Virginia Langley and which has a Crypton® finish, can stand up to the best and worst of life's accidents, while still maintaining its truly supple hand, easy clean-ability, and fashionable color offerings. Learn more about Allora here.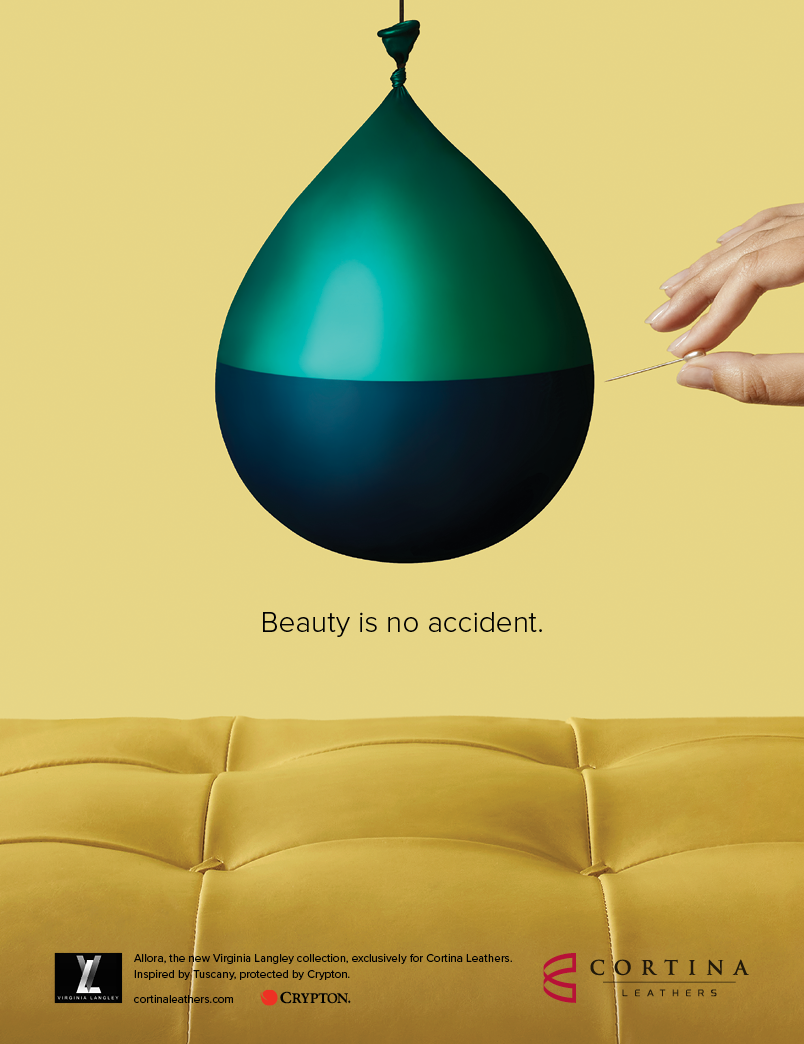 Cortina Leathers was proud to be awarded the Business Longevity Award by Smart Business Magazine being recognized as a successful Northern Ohio business for the past 117 years. While we were not able to attend the ceremony in person we were honored to be included with a prestigious group of Ohio businesses.
Cortina Leathers was founded as Conneaut Leather in 1903 in Conneaut, Ohio, by a group of businessmen led by Charles L. Whitney, to tan and finish leather for upholstering furniture and manufacturing leather luggage.
In 1925, it closed its tannery to focus on leather finishing and in the 1940s was supplying desktop leather to the residential furniture industry.
The company expanded into manufacturing upholstery seating leathers for the automotive aftermarket, office furniture, residential furniture and aviation industries. And in the 1990s, it began stocking finished leather to make it immediately available to office furniture manufacturers, invested in stocked leather and automated cutting machines, and expanded into the automotive aftermarket, book binding and marine markets.
In 2005, Austin Capital Partners LLC bought the company, with President Jack Prause arriving in 2012 to help diversify and expand into new markets. In 2014, Conneaut Leather acquired Cortina Leathers, expanding its standard leather SKUs to over 750 and opening the door to new markets.
Today, doing business as Cortina Leathers, more than 55 employees process 9,000 hides per month, supplying multinational customers and leather for furniture used by the federal government.
We are pleased to announce that Cortina Leathers can now be found at the McGannon Showrooms in Dallas. Stop by to see our full residential offering including Cortina Leathers protected by Crypton (link)
McGannon Showrooms
1617 Hi Line Drive #700
Dallas, TX 75201
info@mcgs.com / 214-748-1828
Wright Enterprises has been servicing manufacturers and distributors in the 11 western states and western Canada since 1980. They sell products that service the Automotive Aftermarket, Marine, Contract and Accessories markets. In 1996, Karen Robison joined her father in the business, taking over in 2013 when he retired.
Karen has gained a wide knowledge base working with many different industries over the years. Her duties include sales and product development, with a goal of increasing market share. Karen's favorite part of doing business is having the opportunity to help make her customers successful and working
hard to meet their needs. Contact Karen for product presentations, virtual presentations, and sample delivery.
karen@wrightreps.com / 562-493-3793
Cortina Leathers welcomes Tina Carrillo as A&D Territory Sales Manager for Southern California and Nevada. Tina brings with her over 5 years of experience servicing the architectural and design community. Her extensive design background allows her to assist designers and specifiers in finding the perfect solution for every project. In her free time Tina loves to support the industry through volunteering for IIDA and producing their annual Haunt Couture social. Contact Tina for product presentations, virtual presentations, and sample delivery.