Nestled within Circa, a chic resort new to the Las Vegas Strip, is its nostalgic heart. Barry's Downtown Prime brings a throwback aesthetic to Fremont Street that combines the best of every Vegas era. Imagined by the design team at Punch Architecture, the interior brings together moody tones, rich woods, glitzy metallics—and irresistible leathers from Cortina—to set the tone for an unparalleled Las Vegas experience.
Barry's Downtown Prime is a steakhouse that feels like it's been there forever, but that there's never been a place quite like it. The 3,200 square foot space is divided into stunning private dining rooms, each named after iconic eateries of Las Vegas' past. Each area is packed with personality, but never feels anything but personal.
To help execute their era-defying design, Punch Architecture turned to Cortina's expertise in a timeless material: leather. For example, the distinctive dining chairs are clad in Collina, a full-grain pull-up leather with aniline authenticity. The cozy tufted booths are upholstered in Athene — an Italian leather with exceptional color depth and a glossy finish.
Explore Cortina's ability to combine vintage flair with trend-forward ideas. Start designing your interiors without limits.
His aesthetic is a celebration of contradiction. Traditional, yet innovative. Historical, yet forward-looking. Streamlined, yet meticulously crafted.
This is the world of visionary New York furniture designer Richard Wrightman, who creates collections and bespoke furnishings from his studio in Long Island City.
Wrightman recently turned to Cortina Leathers to help him execute pieces combining his exceptional wood and our resilient, luxurious Bremen and Rhine nubuck leathers. "This is a return to the authentic. A mix of memory and invention," says Wrightman.
Now nearing 20 years in business, Richard Wrightman's interest in British campaign style began with a late 19th-century collapsible chair that belonged to his father—not unlike the leather-strapped Chatwin series he produces today. "I appreciated the functionality of the design. I felt that the chair had its own secret history of places it had been before my father acquired it. Campaign is romantic and timeless." Cortina Leathers is proud to serve Wrightman in realizing his vision. "Designing furniture is about having all senses fully engaged," he says. "What I aim to do is to design something that is unique."
Designer : Richard Wrightman
Photographer :  Richard Wrightman
Location :  Long Island City, NY

Smooth, warm, rooted in history. So describes the fine bourbon whiskey at Angel's Envy Distillery—and also the recent remodel of their office complex.
The distillery's reputation for perfectionism extended to the reimagining of their historical, early-1900s brick headquarters. They turned to Joseph & Joseph Architects, who collaborated with interior designers at The Kimball Office, to create a modernized, flexible, functional space. The finishing touch? Chairs upholstered in fine leathers from Cortina.
The Angel's Envy complex sits in the heart of downtown Louisville near the unmistakable bend in the Ohio River. Their historic building offers character at every turn: arched windows, exposed brick, wood beam ceilings. To modernize their office spaces while honoring its heritage, the team from Angel's Envy reviewed furnishings with designers from The Kimball Group. They selected office chairs upholstered in our Showcase Eco leather—a beautiful top grain, biodegradable product known for its quality and performance. To outfit the new office-adjacent collaborative seating area, they selected seating upholstered in our Davenport—leather with a luxuriously soft hand and exclusive Crypton® protection.
"Angel's Envy has been very impressed. We are proud to have a showpiece, not only in our distillery, but our offices as well," says Andrea K. Yorgy, Controller at Angel's Envy.
Designer : Kimball® Office
Photographer : Kimball® Office
Location : Angel's Envy, Louisville, Kentucky

It's a luxurious take on the layover—the Renaissance Atlanta Airport Gateway Hotel.
The three-year project is a compelling mix of Southern history, diverse culture, symbolic artwork, and luxe touches to welcome weary travelers. Principal and celebrated interior architect Lauren Rottet says: "It's about letting a place have its own voice, something you can't find anywhere else."
From lobby to reception to every guest room, Rottet's design starts with simplicity and symbolism. To reinforce the point of view in tactile, comfortable touches, designer David Davis chose resilient Cortina leathers—hand-antiqued Old English in Camel on  benches, and Rustico leather in Cannella on the lobby's banquettes. These high-traffic areas require resilience, and each leather was chosen to withstand the demands while giving business travelers an unexpected touch of luxury along the way.
Designer : David Davis, Rottet Studio                    Photographer : Eric Laignel
Location : Atlanta, Georgia


When Caroline Ingraham Lee enlisted LA designer Anne Sage to create the custom headboard of her dreams, she found a leather that will last a lifetime.
Looking to make a bold design statement, Anne chose our Como leather to perfectly marry form with function. This finely crafted aniline leather is intended to beautifully patina over time while its Crypton performance characteristics make it easy to maintain.
Enjoy total peace of mind when using our exclusive Crypton-treated leathers. Built to deliver stain, water, and bacterial protection second to none, learn more.
Designer :  Anne Sage
Photographer :  Anne Sage
Location :  Los Angeles, CA
Owner : Caroline Ingraham Lee

Located in the Zona Rosa district, Rottet Studio executes a reinvention of the Four Seasons Bogotá .
Our Italian Rustico leather incorporates an organic texture that feels both posh and practical, rich and rustic, luxe and leisurely—and as alluring as Bogotá, itself.
Inspired by the Ontario landscape, Louix Louis has been crafted to show stunning designs at every turn. 
Located on the 31st floor of the St Regis in Toronto this stunning restaurant / bar is equal parts regal and fun. The large-scale, 2 stories high design incorporates rich materials and warm tones throughout.  
Located in Downtown Denver, the Ramble Hotel pays homage to the french salons of the 17th century. From the lobby to the bar, each space creates a unforgettable moment among the guests.
Making a stunning statement in the lobby, our Rustico leather in Primavera is a gorgeous Italian aniline that accentuates its sheen through expertly executed tufting. Like all genuine distressed leathers, it will age gracefully and reveal its natural characteristics with use and time.
At the hotel bar, Death & Co. craft cocktails are served in a memorable setting which features our Florence leather finished with Crypton. Don't be afraid to spill, this performance leather is designed to last!
Designer : Avenue ID
Photographer : Raul Garcia
Location : Denver, Colorado
Sophisticated and eclectic, the Sophy Hotel embodies the crafts and passions of art, science, literature, and music that are the inspiration of today's Hyde Park.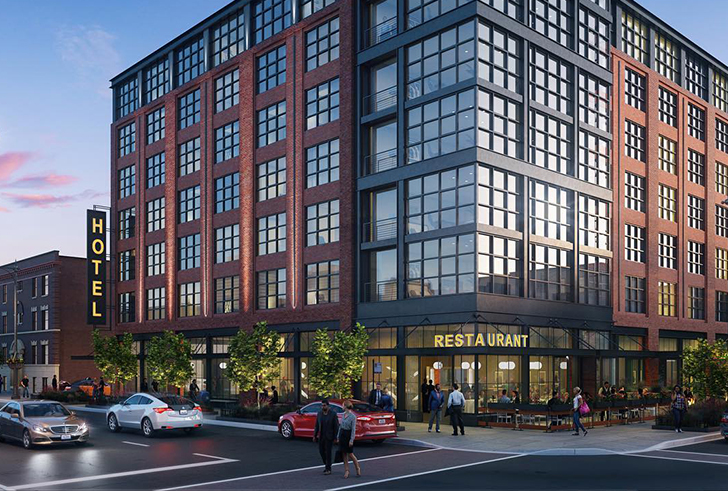 Designed to incorporate both the vibrant character of Hyde Park and the luxurious aesthetic of the hotel, the design incorporates sustainable features to a achieve a minimum of a LEED Silver certification. The selection of materials used were also chosen through the lens of environmental consciousness.
Characterized by its simplicity and refinement, The Pierre is a landmark on Fifth Avenue in New York City.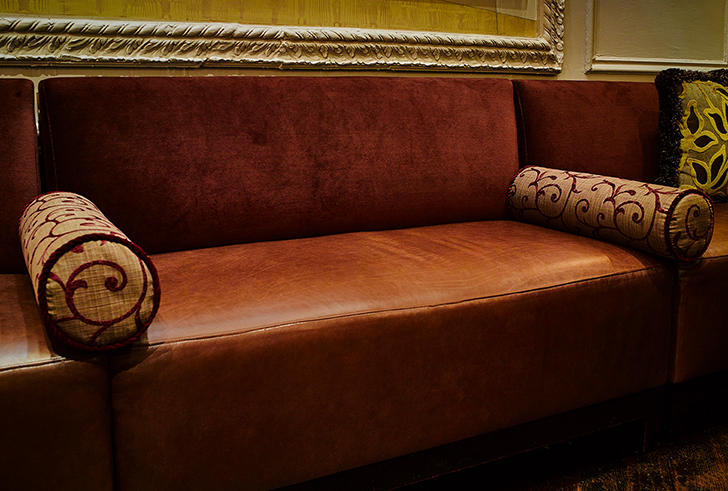 Built in the 1930s, New York's ever-changing culture has left a unique imprint on the history of this luxurious five star hotel.